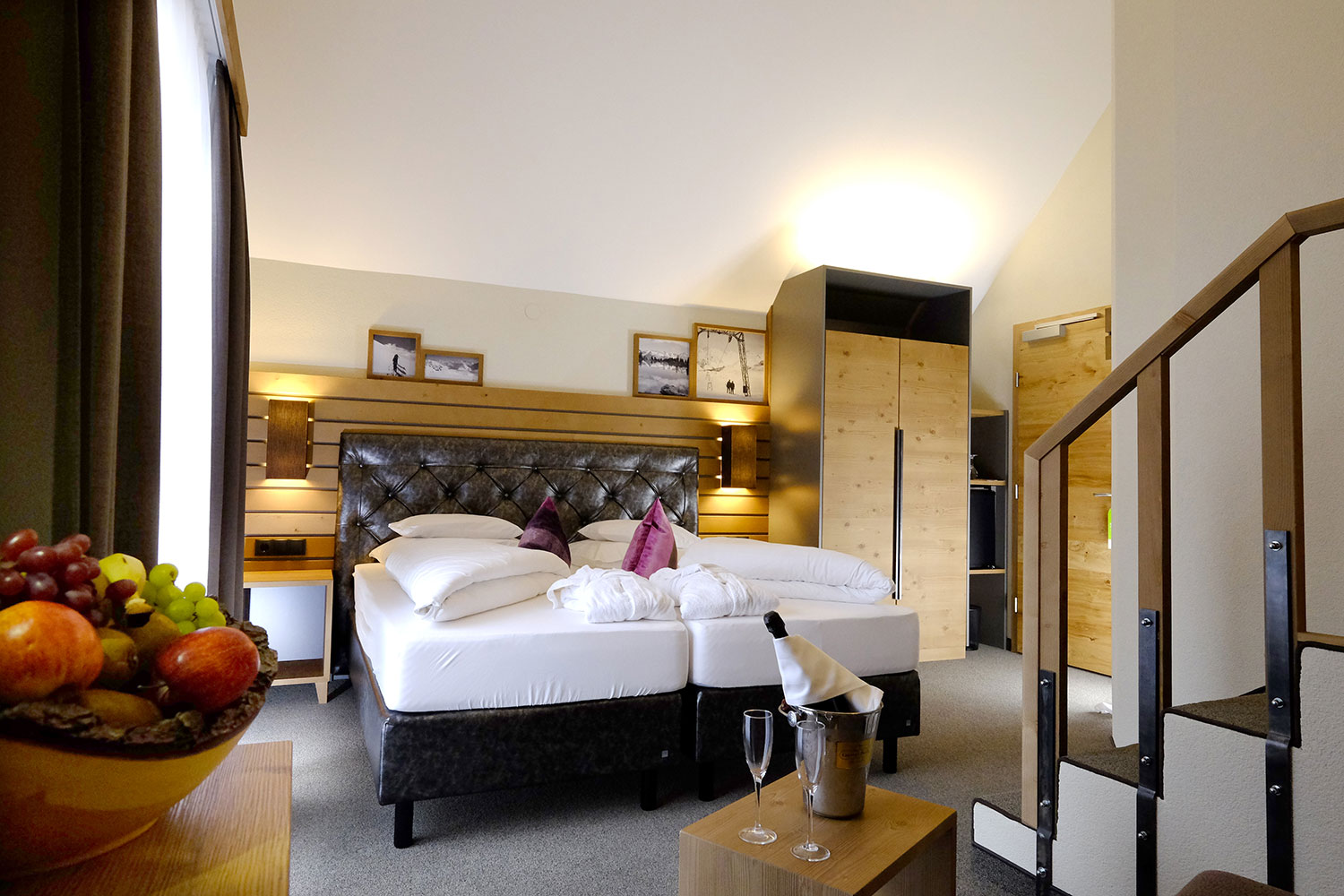 WOHNEN IM VISTA ALLEGRA
Enjoy the magnificent view of the impressive Silvretta mountains.
We offer two room categories, the double room "Standard" deluxe with about 18 m² to 23 m² and the double room "Vista Allegra" deluxe with about 23 m² and 30 m². Most of these can also be booked as more bed rooms.
Double rooms
standard deluxe
18 m²  – 23 m²
SKI OPENING
SKI MAGIC
23.11. – 26.11.2023
22.12. – 06.01.2024

27.01. – 23.03.2024

from € 139,00
from € 187,00
| SKI START | SKI FIRN |
| --- | --- |
| 27.11. – 21.12.2023 | 07.04 – 26.04.2024 |
| from € 134,00 | from € 134,00 |
SKI CLASSIC
SKI ENDING
07.01. – 26.01.2024

24.03. – 06.04.2024

27.04 – 01.05.2024
from € 168,00
from € 139,00
Double room
Vista Allegra deluxe
23 m²  – 30 m²
SKI OPENING
SKI MAGIC
23.11. – 26.11.2023
22.12. – 06.01.2024

27.01. – 23.03.2024

from € 144,00
from € 192,00
| SKI START | SKI FIRN |
| --- | --- |
| 27.11. – 21.12.2023 | 07.04 – 26.04.2024 |
| from € 139,00 | from € 139,00 |
SKI CLASSIC
SKI ENDING
07.01. – 26.01.2024

24.03. – 06.04.2024

27.04 – 01.05.2024
from € 173,00
from € 144,00
All 19 rooms have a balcony or French balcony. The new residential units built in 2015, 2016 and 2019 are comfortably and modernly furnished and have their own individual style. The spacious bathrooms are equipped with rain shower, toilet, cosmetic mirror, hairdryer and of course a cozy bathrobe. In addition, you can expect